Services
Designs by Lisa of Elk River is a full service event rental center as well as professional event decorators that began in 2004. We service:
Set Designers
Event Planners
Corporate USA
Prom and Wedding supplier
Professional Event Designers
Photographers and Videography
Brides
We not only rent items, but we sell new products as well! Decorate yourself, or hire us to do it for you. We deliver, install and tear down. Ask about our Rent-A-Woods or Rent-A-Jungle offerings!
Whatever the occasion, Designs by Lisa of Elk River is here to assist in making your dream event a reality!
Events serviced by Designs by Lisa below:
We service Event Planners, Set Designers, Photographers, Videographers, the Film Industry, Marketing & Adversiting for the following:

CORPORATE AMERICA
Advertising
Marketing
Conventions
Commercials
Christmas Parties
St Patricks Day items
PROM
Most Popular: Secret Garden Themes
Hollywood Themes
Western Themes
Any theme that requires artificial trees, shrubs, grass
WEDDINGS
premade tulle and light ceiling decor
Centerpieces & Vases
Artificial Trees/Greenery/Floral rentals
Table & Chair rentals for up to 96 people
RESTAURANTS, BUSINESSES & CONFERENCE CENTERS
Christmas Décor
Wedding Rentals
Rent-A-Woods
Rent-A-Jungle
More...
FILM INDUSTRY
Feature Films
Backdrops for product advertising
Commercials
BUSINESSES & MGMT COMPANIES
Christmas Interior Decoration Creation and Installation
Outdoor live flower installation and live winter greenery and Christmas Planters
100 Year Celebration
More...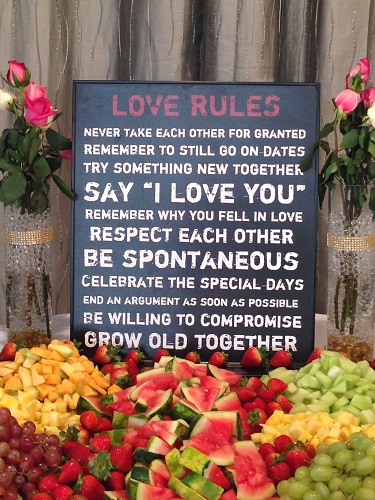 QUEEN CORNATIONS - Stage Decor
CHAMBER OF COMMERCE
Christmas Party Décor
Fundraiser & Live Auction
Gala's
ART SHOW - Floral Arrangements for Enhancement
WINE TASTING EVENTS - Display tables & Entrance Decor
EXPOS
Expo Booth Décor
Backdrop rentals for Keynote Speakers
Stage Décor
ELITE HOMES
Outdoor Christmas Planters
Indoor Christmas Decoration creation and installation